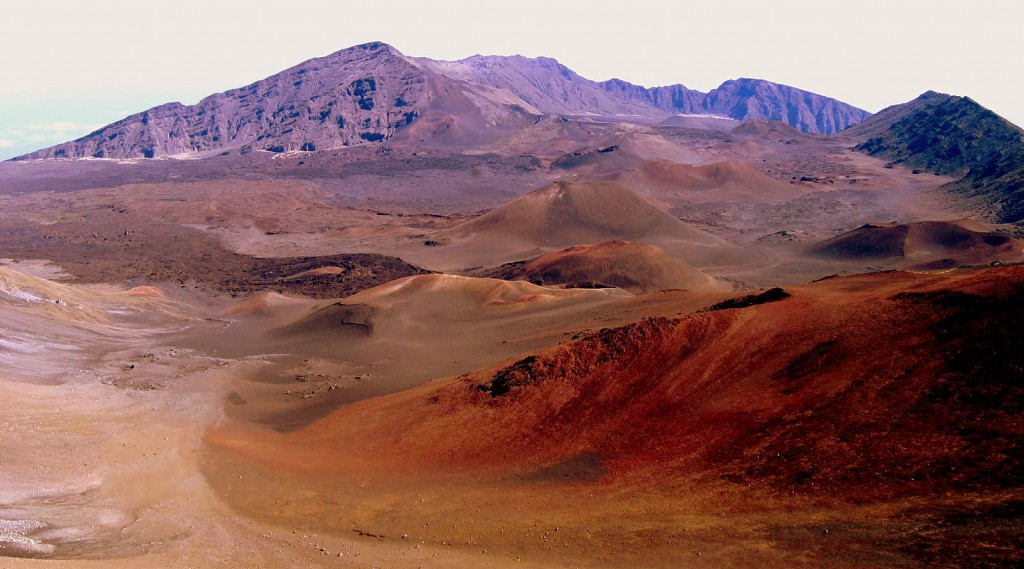 Haleakala National Park on the island of Maui.

Want to find out why people say Maui no kai or Maui is the best? If so,  here's a sample our current Maui vacation packages as of May 1, 2017:
Kaanapali Beach Hotel on Maui, starting from $797, per person, double occupancy with round trip flight from the west coast.*

The Kapalua Villas Maui, starting from $755 per person, double occupancy, with round trip flight from the west coast.*

Island Air and Alamo Fly Drive, starting from $145 per person, double occupancy.*
*Offers subject to availability, restrictions and change without notice.
Maui – The Valley Isle
This is a beautiful island of different climate zones, culture and geography. There are the rolling hills and cool breezes of Upcountry Maui where you can tour a winery. You can also visit unique farms that raise exotic produce and flowers like sweet Maui onions, lavender, and protea.

Enjoy the thrill of driving up to Haleakala in total darkness with a universe of stars overhead. Then watch the sun rise over the crater in one of America's great national parks, Haleakala National Park.

Take the unforgettable road to Hana with its 52 bridges and scenery that will simply take your breath away. Travel past Hana to visit the grave site of the famous American aviator Charles Lindbergh. Then end your journey at the idyllic Kipahulu area of Haleakala National Park. Here, you can find peaceful waterfalls, dense bamboo forests and relaxing and scenic trails.

Panda Travel ® can handle all of your needs for Maui vacation packages. We can consistently give you the best Maui deals for your travel dollar.
Planning to Visit Another Island in Hawaii? 
If so, check out our other vacation packages on Oahu, Kauai and the Big Island of Hawaii.
Oahu Vacation Packages

Kauai Vacation Packages

Big Island Vacation Packages