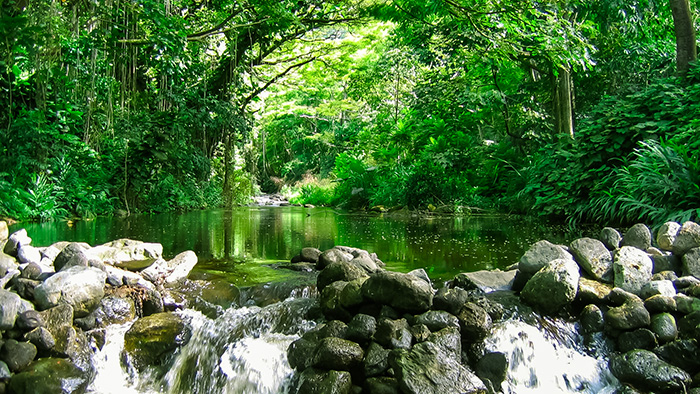 Waipio Valley on the Big Island of Hawaii.
Here is a sample of our most current Big Island vacation packages as of May 1, 2017:
Waikoloa Beach Marriott Resort & Spa, starts from $689, per person, double occupancy with round trip from select west coast city.*
Island Air & Aston Shores at Waikoloa Inter Island Package, starts from $216 per person, double occupancy with round trip from Honolulu.*
* Offers subject to restrictions, availability and change without notice.
Hawaii – The Big Island
The Big Island is an island of stark contrasts and incomparable beauty. Amazingly, the island has nearly every one of Earth's major climate systems.
Its Hamakua Coast has many scenic waterfalls, such as Rainbow Falls and Akaka Falls. Here, you can also find historic and secluded Waipio Valley, once home to Hawaiian Royalty.
The Kohala Coast features the rolling hills of Kamuela and Parker Ranch, one of the largest cattle ranches of it kind in the country. As a measure of its scenic beauty, a number of deluxe luxury resorts line this coast line.
The Big Island's Kona Coast is a popular tourist destination area. Tourists can stay in a wide range of hotels and resorts in the Kailua-Kona area. Here, you can also find coffee plantations, black sand beaches and historic Hawaiian heiaus.
Above all, the Big Island is famous for Hawaii Volcanoes National Park and its active volcanoes. The island's most notable volcano is Kilauea. Within the park, you can see up-close Kilauea's hot lava flowing into the ocean. Its other volcanoes are Mauna Kea and Mauna Loa. Respectively, they are some of the highest and largest volcanic peaks in the world.
Panda Travel ® offers a wide selection of Big Island vacation packages at very competitive prices. As a result, we can offer you some of best values on Big Island travel deals.
Planning on Seeing One or More Hawaiian Island?
If so, check out our vacation package offers on the other islands:
Oahu Vacation Packages

Maui Vacation Packages

Kauai Vacation Packages